Medical Products and Supplies
Endotracheal tubes. Standard
• Cuffed: I.D. (2.5-10.0)
• Uncuffed: I.D. (2.5-10.0)
• Color coded connectors
• Soft distal tip
---
Mederen offers a wide range of state-of-the-art Endotracheal Tubes with unique benefits for increased patient safety. Such as the Mederen Colour Coding System which clearly indicates the correct suction catheter calibre to be used together with the chosen Endotracheal Tube.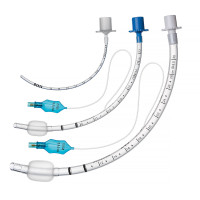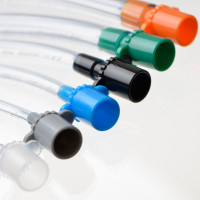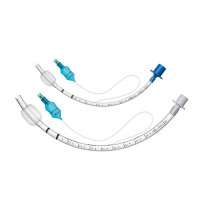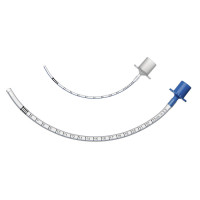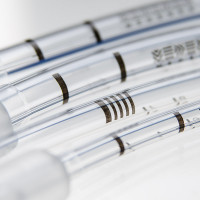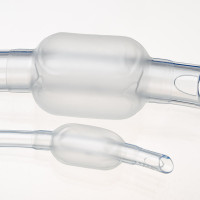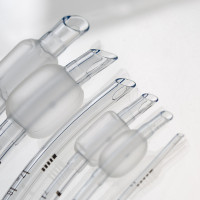 Product Features
In order to minimise such effects, the calibre of the suction catheter should be choosen in relation to the inner diameter of the endotracheal/tracheostomy tube.
The diameter of the suction catheter should be close to half the inner diameter of the airway used in order to provide sufficient room for ambient air to flow in.
Since endotracheal tubes are identified by inner diameter (I.D.) and suction catheters by their Charrière (CH) or French (F) size, indicated by their colour coding, making the right choice is not always easy.
Mederen's Colour Coding System clearly indicates the appropriate suction catheter size, eases the choice for the medical professional and increases overall safety during suction procedures.
All Standard Mederen Ets are equipped with a colour coded 15 mm connector reflecting the standardised** colour code of the recommended suction catheter.
High-volume, low-pressure, barrel-shaped cuffs.
Responsive pilot balloons.
Finely heat-welded cuffs (cuffed versions).
Bull-nose tips.
Split-resistant radiopaque lines.
Smooth Murphy eyes.
Kink-resistant thermosensitive tubes.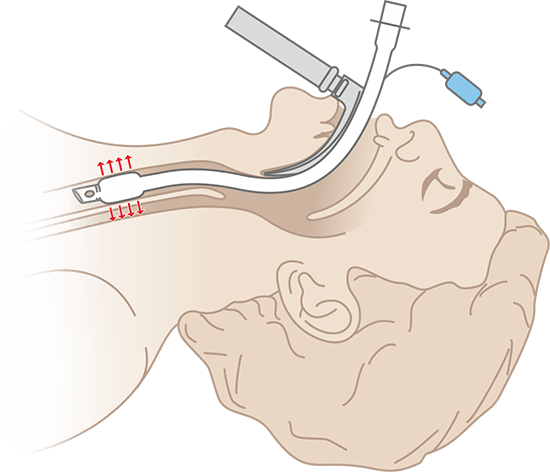 Available Configurations
Cuffed endotracheal tubes
Ref. No.:
ID, mm


(internal ⌀)

OD, mm


(external ⌀)

Length, cm
Color code
Qty


(midbox / box)

0125-М111-25
2,5
3,5
19
10 / 100
0125-М111-30
3,0
4,2
19
10 / 100
0125-М111-35
3,5
4,9
21
10 / 100
0125-М111-40
4,0
5,5
23
10 / 100
0125-М111-45
4,5
6,2
25
10 / 100
0125-М111-50
5,0
6,9
27
10 / 100
0125-М111-55
5,5
7,5
30
10 / 100
0125-М111-60
6,0
8,2
30
10 / 100
0125-М111-65
6,5
8,8
30
10 / 100
0125-М111-70
7,0
9,6
31
10 / 100
0125-М111-75
7,5
10,2
32
10 / 100
0125-М111-80
8,0
10,9
32
10 / 100
0125-М111-85
8,5
11,5
32
10 / 100
0125-М111-90
9,0
12,1
32
10 / 100
0125-М111-95
9,5
12,7
32
10 / 100
0125-М111-10
10,0
13,6
32
10 / 100
Uncuffed endotracheal tubes
Ref. No.:
ID, mm


(internal ⌀)

OD, mm


(external ⌀)

Length, cm
Color code
Qty


(midbox / box)

0125-М111-20
2,0
2,9
19
10 / 100
0125-М111-25
2,5
3,5
19
10 / 100
0125-М111-30
3,0
4,2
19
10 / 100
0125-М111-35
3,5
4,9
21
10 / 100
0125-М111-40
4,0
5,5
23
10 / 100
0125-М111-45
4,5
6,2
25
10 / 100
0125-М111-50
5,0
6,9
27
10 / 100
0125-М111-55
5,5
7,5
30
10 / 100
0125-М111-60
6,0
8,2
30
10 / 100
0125-М111-65
6,5
8,8
30
10 / 100
0125-М111-70
7,0
9,6
31
10 / 100
0125-М111-75
7,5
10,2
32
10 / 100
0125-М111-80
8,0
10,9
32
10 / 100
0125-М111-85
8,5
11,5
32
10 / 100
0125-М111-90
9,0
12,1
32
10 / 100
0125-М111-95
9,5
12,7
32
10 / 100
0125-М111-10
10,0
13,6
32
10 / 100