Medical Products and Supplies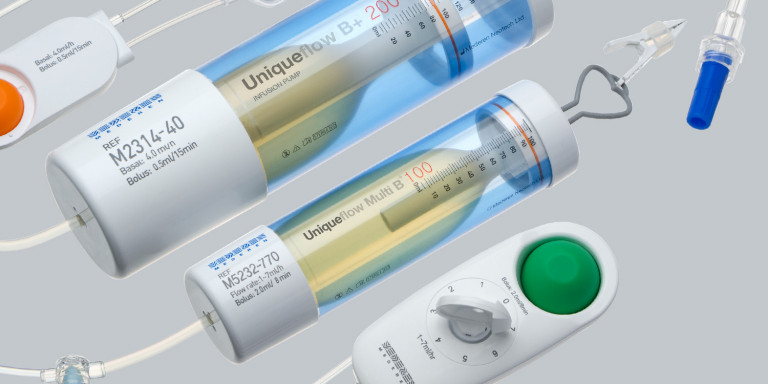 Elastomeric Microinfusion Pumps
Disposable elastomeric MIPs for post op pain management that encourage early ambulation and makes home therapy possible especially for chemotherapy, antibiotics, antivirals and other general intravenous treatments.
The microinfusion pump has revolutionized patient therapy by providing mobility and freedom. With its low infusion rate, the MIP is ideal for continuous pain therapy and outpatient chemotherapy, making it a practical option for patients to use at home. The MIP comes in different models with variable volumes, adjustable infusion rates, and patient-controlled analgesia (PCA) bolus, providing a wide range of clinical applications.
MIPs are designed to connect to a central venous catheter and vein scalp set via a Luer Slip or Luer Lock hub, making it safe and convenient for medical personnel to administer medication. With reduced operation time and enhanced medical care, the MIP saves significant effort for medical personnel.
MIPs offer patients the added benefit of mobility, allowing them to move around freely without interrupting their therapy. Unlike electrical infusion devices, MIPs are not dependent on a power source, making them even more convenient for patients.
MIPs for chemotherapy come with a special light protection cap and are equipped with accessories for attachment to clothing or the patient's body. They also come with special attachment devices to ensure safe and easy administration of medication.
In summary, the microinfusion pump is a versatile device that provides patients with mobility, convenience, and safety. With its wide range of clinical applications and various models, the MIP is a practical option for continuous pain therapy and outpatient chemotherapy.