Medical Products and Supplies
Irrigation Sets
• Volume: 1500, 1750, 2000 ml
• Roller clamp, locking mechanism, with slide clamp
• Atraumatic distal end
---
Irrigation Set MEDEREN is a 'closed' irrigation system especially for patients who are unable to sit on an ordinary toilet and therefore need their bowel management to be carried out on the bed. The system flows the water into the rectum. The return water is collected hygienically and odour free in the collection bag.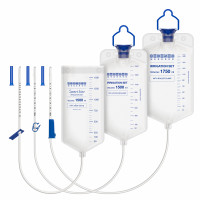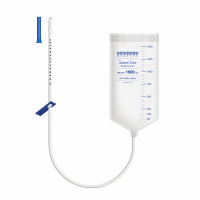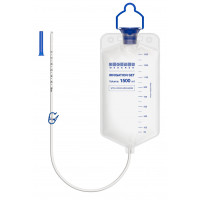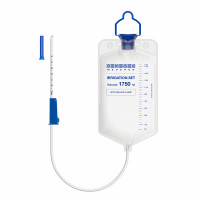 Product Features
Bag value - 1500, 1750, 2000 ml;
Made of non-toxic, soft PVC;
Roller clamp for smooth flow adjustment or simple locking mechanism to quick flow stop or slide clamp;
Atraumatic distal end coated with vaseline and insulated with a cap to ensure a smooth and easy introduction;
1 side and 1 lateral holes at the distal tip;
A tight lid on the neck protects against accidental spills of fluid;
Convenient scale on the bag to determine the volume of injected solution;
Connecting tube length 1.5 m, O.D. 6.5 mm, I.D. 4.9 mm;
Sterile (ethylene oxide), for single use only;
Packing: shipping box (30 pcs).
Available Configurations
| Ref. No.: | Value, ml | Lock type | Qty.Cs: |
| --- | --- | --- | --- |
| 0316-М100-01 | 1500 | With roller clamp | 30 |
| 0316-М100-02 | 1750 | With locking mechanism | 30 |
| 0316-М100-03 | 2000 | With roller clamp | 30 |
| 0316-М100-04 | 1500 | With locking mechanism | 30 |
| 0316-М100-05 | 1750 | With roller clamp | 30 |
| 0316-М100-06 | 2000 | With locking mechanism | 30 |
| 0316-М100-07 | 1500 | With slide clamp | 30 |
| 0316-М100-08 | 1750 | With slide clamp | 30 |