Medical Products and Supplies
PVC Infusion Extension Lines. Transparent
• 10 modifications
• Length: 10-300 mm
---
Extension Infusion Lines are used to lengthen the infusion line, in cases where the standard length is not enough.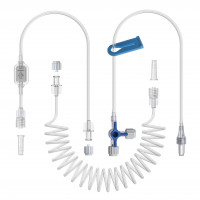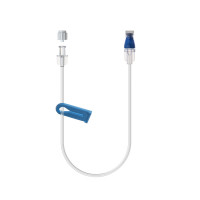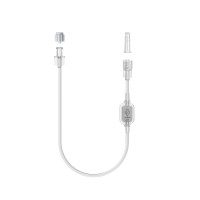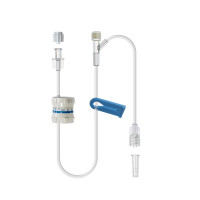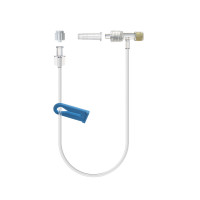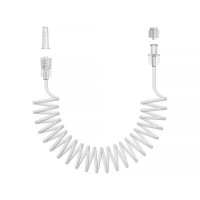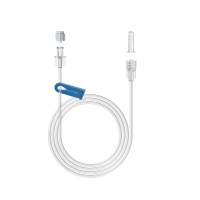 Product Features
Transparent tubes allows to monitor the administered infusion.
Awailable modifications with built-in infusion filters (5.0, 1.2, 0.2 µm) for removing air, microorganisms, and solid particles from solutions in the infusion line.
Spiral model for infusions under high pressure using infusion pumps and compressors.
Modification with T-port for painless administration of medications.
Modification with flow regulator for infusion of drugs that require precise dosing.
Modifications with needleless connectors to ensure complete sealing and reduce the risk of catheter-associated infections.
Latex-free and phthalates-free.
Equipped with luer-lock connectors (male/female).
Breaking force: not less than 50 N.
Inner/outer tube diameter 3.0x4.1mm, 1.0x2.3mm.
Line length 10-300 cm.
Available Configurations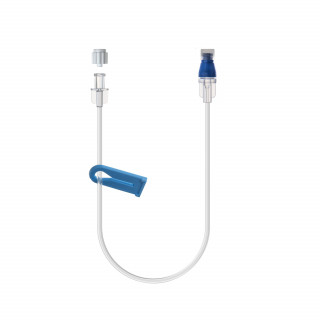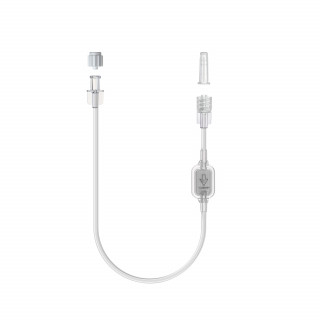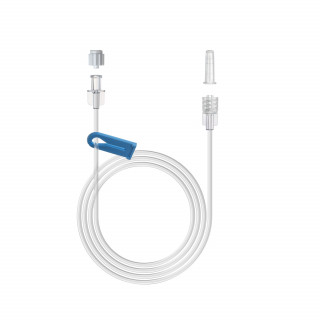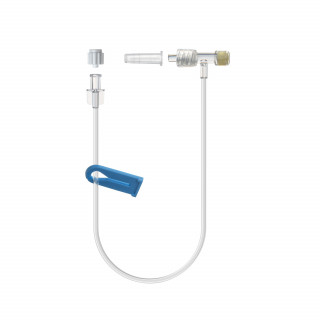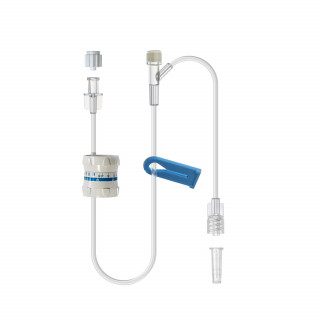 With flow regulator and Y-port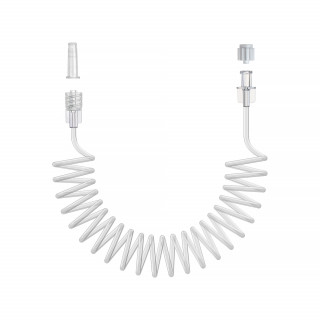 | REF | Description | Line length, cm | Qty in box |
| --- | --- | --- | --- |
| 1416-M300-10 | Ø3.0x4.1 mm | 10 | 100 |
| 1416-M300-30 | Ø3.0x4.1 mm | 30 | 100 |
| 1416-M300-50 | Ø3.0x4.1 mm | 50 | 100 |
| 1416-M300-80 | Ø3.0x4.1 mm | 80 | 100 |
| 1416-M300-100 | Ø3.0x4.1 mm | 100 | 100 |
| 1416-M300-150 | Ø3.0x4.1 mm | 150 | 100 |
| 1416-M300-200 | Ø3.0x4.1 mm | 200 | 100 |
| 1416-M300-250 | Ø3.0x4.1 mm | 250 | 100 |
| 1416-M300-300 | Ø3.0x4.1 mm | 300 | 100 |
| 1416-M400-10 | Ø1.0x2.3 mm | 10 | 100 |
| 1416-M400-30 | Ø1.0x2.3 mm | 30 | 100 |
| 1416-M400-50 | Ø1.0x2.3 mm | 50 | 100 |
| 1416-M400-80 | Ø1.0x2.3 mm | 80 | 100 |
| 1416-M400-100 | Ø1.0x2.3 mm | 100 | 100 |
| 1416-M400-150 | Ø1.0x2.3 mm | 150 | 100 |
| 1416-M400-200 | Ø1.0x2.3 mm | 200 | 100 |
| 1416-M400-250 | Ø1.0x2.3 mm | 250 | 100 |
| 1416-M400-300 | Ø1.0x2.3 mm | 300 | 100 |
| 1416-M500-30 | With flow regulator | 30 | 50 |
| 1416-M500-50 | With flow regulator | 50 | 50 |
| 1416-M500-80 | With flow regulator | 80 | 50 |
| 1416-M500-100 | With flow regulator | 100 | 50 |
| 1416-M500-150 | With flow regulator | 150 | 50 |
| 1416-M600T-10 | With T-port | 10 | 100 |
| 1416-M300-10F1.2 | With filter 1.2µm, Ø3.0x4.1 mm | 10 | 100 |
| 1416-M300-30F1.2 | With filter 1.2µm, Ø3.0x4.1 mm | 30 | 100 |
| 1416-M300-50F1.2 | With filter 1.2µm, Ø3.0x4.1 mm | 50 | 100 |
| 1416-M300-801.2F | With filter 1.2µm, Ø3.0x4.1 mm | 80 | 100 |
| 1416-M300-100F1.2 | With filter 1.2µm, Ø3.0x4.1 mm | 100 | 100 |
| 1416-M300-150F1.2 | With filter 1.2µm, Ø3.0x4.1 mm | 150 | 50 |
| 1416-M300-200F1.2 | With filter 1.2µm, Ø3.0x4.1 mm | 200 | 50 |
| 1416-M300-10F0.2 | With filter 0.2µm, Ø3.0x4.1 mm | 10 | 100 |
| 1416-M300-30F0.2 | With filter 0.2µm, Ø3.0x4.1 mm | 30 | 100 |
| 1416-M300-50F0.2 | With filter 0.2µm, Ø3.0x4.1 mm | 50 | 100 |
| 1416-M300-80F0.2 | With filter 0.2µm, Ø3.0x4.1 mm | 80 | 100 |
| 1416-M300-100F0.2 | With filter 0.2µm, Ø3.0x4.1 mm | 100 | 100 |
| 1416-M300-150F0.2 | With filter 0.2µm, Ø3.0x4.1 mm | 150 | 50 |
| 1416-M300-200F0.2 | With filter 0.2µm, Ø3.0x4.1 mm | 200 | 50 |
| 1416-M300-300F0.2 | With filter 0.2µm, Ø3.0x4.1 mm | 300 | 50 |
| 1416-M300-10F5.0 | With filter 5.0µm, Ø3.0x4.1 mm | 10 | 100 |
| 1416-M300-30F5.0 | With filter 5.0µm, Ø3.0x4.1 mm | 30 | 100 |
| 1416-M300-50F5.0 | With filter 5.0µm, Ø3.0x4.1 mm | 50 | 100 |
| 1416-M300-80F5.0 | With filter 5.0µm, Ø3.0x4.1 mm | 80 | 100 |
| 1416-M300-100F5.0 | With filter 5.0µm, Ø3.0x4.1 mm | 100 | 100 |
| 1416-M300-150F5.0 | With filter 5.0µm, Ø3.0x4.1 mm | 150 | 50 |
| 1416-M300-200F5.0 | With filter 5.0µm, Ø3.0x4.1 mm | 200 | 50 |
| 1416-M400-10F1.2 | With filter 1.2µm, Ø1.0x2.3 mm | 10 | 100 |
| 1416-M400-30F1.2 | With filter 1.2µm, Ø1.0x2.3 mm | 30 | 100 |
| 1416-M400-50F1.2 | With filter 1.2µm, Ø1.0x2.3 mm | 50 | 100 |
| 1416-M400-80F1.2 | With filter 1.2µm, Ø1.0x2.3 mm | 80 | 100 |
| 1416-M400-100F1.2 | With filter 1.2µm, Ø1.0x2.3 mm | 100 | 100 |
| 1416-M400-150F1.2 | With filter 1.2µm, Ø1.0x2.3 mm | 150 | 100 |
| 1416-M400-200F1.2 | With filter 1.2µm, Ø1.0x2.3 mm | 200 | 50 |
| 1416-M400-10F0.2 | With filter 0.2µm, Ø1.0x2.3 mm | 10 | 100 |
| 1416-M400-30F0.2 | With filter 0.2µm, Ø1.0x2.3 mm | 30 | 100 |
| 1416-M400-50F0.2 | With filter 0.2µm, Ø1.0x2.3 mm | 50 | 100 |
| 1416-M400-80F0.2 | With filter 0.2µm, Ø1.0x2.3 mm | 80 | 100 |
| 1416-M400-100F0.2 | With filter 0.2µm, Ø1.0x2.3 mm | 100 | 100 |
| 1416-M400-150F0.2 | With filter 0.2µm, Ø1.0x2.3 mm | 150 | 100 |
| 1416-M400-200F0.2 | With filter 0.2µm, Ø1.0x2.3 mm | 200 | 50 |
| 1416-M400-300F0.2 | With filter 0.2µm, Ø1.0x2.3 mm | 300 | 50 |
| 1416-M400-10F5.0 | With filter 5.0µm, Ø1.0x2.3 mm | 10 | 100 |
| 1416-M400-30F5.0 | With filter 5.0µm, Ø1.0x2.3 mm | 30 | 100 |
| 1416-M400-50F5.0 | With filter 5.0µm, Ø1.0x2.3 mm | 50 | 100 |
| 1416-M400-80F5.0 | With filter 5.0µm, Ø1.0x2.3 mm | 80 | 100 |
| 1416-M400-100F5.0 | With filter 5.0µm, Ø1.0x2.3 mm | 100 | 100 |
| 1416-M400-150F5.0 | With filter 5.0µm, Ø1.0x2.3 mm | 150 | 100 |
| 1416-M400-200F5.0 | With filter 5.0µm, Ø1.0x2.3 mm | 200 | 50 |
| 1416-M700C-150 | Spiral type | 150 | 50 |
| 1416-M701-10 | With Needless port | 10 | 100 |