Medical Products and Supplies
Hemodialysis catheter kits
• Straight and curved catheters
• Single, Dual and Triple Lumen
• Sizes from 6.5 to 14 Fr
• Short Term
---
Mederen offers high-quality, affordable hemodialysis catheter kits in straight, curved, silicone, and polyurethane configurations for hemodialysis and apheresis treatment. Our hemodialysis catheter kits meet clinician and patient needs while decreasing hemodialysis and apheresis therapy time.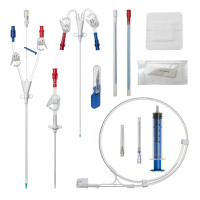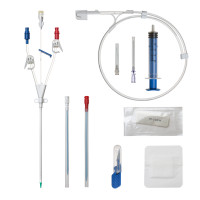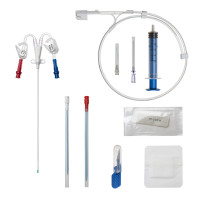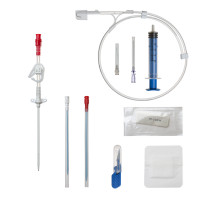 Product Features
Mederen's hemodialysis catheter kits, available in different models with a wide variety of sizes and catheter lengths, is internationally distributed and recognized for reliable quality and exceptional value.
Hemodialysis catheter kit also referred to as a dialysis catheter kit is manufactured and used in attaining long-term vascular access for hemodialysis and apheresis. The dialysis kit may be inserted through the skin and is primarily positioned in the internal jugular vein region of an adult patient. An alternate insertion site includes the subclavian vein.
Mederen's hemodialysis catheter is a single, double and triple lumen radiopaque catheter with a polyester cuff. The catheter comes in multiple sizes, ranging from 6.5 French to 14 French, featuring an innovative radiused distal configuration.
Composed of specially formulated and biocompatible polyurethane material, which provides maximum strength during insertion for longevity and also softens at body temperature to conform to the body tissues, reducing the risk of vascular trauma in the process.
Kit Components
Polyurethane Catheter with Soft Tip (straight or curved)
Guidewire
Introducer Needle
Raulerson Syringe
Vessel Dilators
Nylon Suture with Curved Needle
Patch
Scalpel
Injection Caps
Available Configurations
REF
Catheter size
Catheter length, cm
Catheter type
Qty in box
Single lumen
MB1OH-7F8
7Fr
8
Straight
1/10/40
MB1OH-7F8C
7Fr
8
Curved
1/10/40
MB1OH-7F16
7Fr
16
Straight
1/10/40
MB1OH-7F16C
7Fr
16
Curved
1/10/40
MB1OH-8F8
8Fr
8
Straight
1/10/40
MB1OH-8F8C
8Fr
8
Curved
1/10/40
MB1OH-8F16
8Fr
16
Straight
1/10/40
MB1OH-8F16C
8Fr
16
Curved
1/10/40
Double lumen
MB2OH-6.5F8
6,5Fr
8
Straight
1/10/40
MB2OH-6.5F8C
6,5Fr
8
Curved
1/10/40
MB2OH-6.5F10
6,5Fr
10
Straight
1/10/40
MB2OH-6.5F10C
6,5Fr
10
Curved
1/10/40
MB2OH-6.5F13
6,5Fr
13
Straight
1/10/40
MB2OH-6.5F13C
6,5Fr
13
Curved
1/10/40
MB2OH-6.5F16
6,5Fr
16
Straight
1/10/40
MB2OH-6.5F16C
6,5Fr
16
Curved
1/10/40
MB2OH-6.5F20
6,5Fr
20
Straight
1/10/40
MB2OH-6.5F20C
6,5Fr
20
Curved
1/10/40
MB2OH-8.5F8
8,5Fr
8
Straight
1/10/40
MB2OH-8.5F8C
8,5Fr
8
Curved
1/10/40
MB2OH-8.5F10
8,5Fr
10
Straight
1/10/40
MB2OH-8.5F10C
8,5Fr
10
Curved
1/10/40
MB2OH-8.5F13
8,5Fr
13
Straight
1/10/40
MB2OH-8.5F13C
8,5Fr
13
Curved
1/10/40
MB2OH-8.5F16
8,5Fr
16
Straight
1/10/40
MB2OH-8.5F20
8,5Fr
20
Straight
1/10/40
MB2OH-8.5F20C
8,5Fr
20
Curved
1/10/40
MB2OH-10F10
10Fr
10
Straight
1/10/40
MB2OH-10F10C
10Fr
10
Curved
1/10/40
MB2OH-10F13
10Fr
13
Straight
1/10/40
MB2OH-10F13C
10Fr
13
Curved
1/10/40
MB2OH-10F15
10Fr
15
Straight
1/10/40
MB2OH-10F15C
10Fr
15
Curved
1/10/40
MB2OH-10F16
10Fr
16
Straight
1/10/40
MB2OH-10F16C
10Fr
16
Curved
1/10/40
MB2OH-10F20
10Fr
20
Straight
1/10/40
MB2OH-10F20C
10Fr
20
Curved
1/10/40
MB2OH-11.5F13
11.5Fr
13
Straight
1/10/40
MB2OH-11.5F13C
11.5Fr
13
Curved
1/10/40
MB2OH-11.5F16
11.5Fr
16
Straight
1/10/40
MB2OH-11.5F16C
11.5Fr
16
Curved
1/10/40
MB2OH-11.5F20
11.5Fr
20
Straight
1/10/40
MB2OH-11.5F20C
11.5Fr
20
Curved
1/10/40
MB2OH-11.5F25
11.5Fr
25
Straight
1/10/40
MB2OH-11.5F25C
11.5Fr
25
Curved
1/10/40
MB2OH-12F13
12Fr
13
Straight
1/10/40
MB2OH-12F13C
12Fr
13
Curved
1/10/40
MB2OH-12F16
12Fr
16
Straight
1/10/40
MB2OH-12F16C
12Fr
16
Curved
1/10/40
MB2OH-12F20
12Fr
20
Straight
1/10/40
MB2OH-12F20C
12Fr
20
Curved
1/10/40
MB2OH-14F13
14Fr
13
Straight
1/10/40
MB2OH-14F13C
14Fr
13
Curved
1/10/40
MB2OH-14F16
14Fr
16
Straight
1/10/40
MB2OH-14F16C
14Fr
16
Curved
1/10/40
MB2OH-14F20
14Fr
20
Straight
1/10/40
MB2OH-14F20C
14Fr
20
Curved
1/10/40
Triple lumen
MB3OH-12F13
12Fr
13
Straight
1/10/40
MB3OH-12F13C
12Fr
13
Curved
1/10/40
MB3OH-12F16
12Fr
16
Straight
1/10/40
MB3OH-12F16C
12Fr
16
Curved
1/10/40
MB3OH-12F20
12Fr
20
Straight
1/10/40
MB3OH-12F20C
12Fr
20
Curved
1/10/40