Medical Products and Supplies
Spinal Anesthesia Kits
• Quincke needle
• Pencil Point needle
• Atrau needle
---
Mederen spinal anesthesia kits features all range of Mederen spinal needles with a variety of procedural components in kit and set configurations.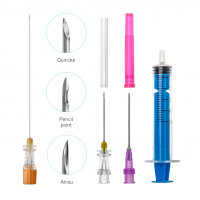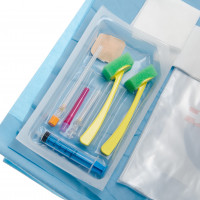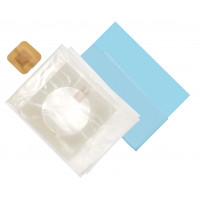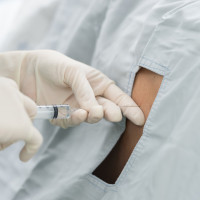 Product Features
Available in Quincke, Pencil Point, and Atrau needles types.
Needle and stylet material: stainless steel.
Pavilion material: transparent ABS plastic.
The needle pavilion has finger rests for a comfortable grip and a standard Luer connector.
Color coding of the needle tubing connection point to the pavilion and plastic part of the stylet according to international needle diameter labeling.
A full range of spinal needles with or without a guide needle.
The inner diameter of the guide needle corresponds to the external channel of the spinal needle.
Size of aspirating cannula: 18G x 1 1/2" (1.2 x 38 mm).
Size of aspirating cannula filter pore: 0.5 ± 0.01 μm.
Products are sterile, pyrogen-free.
For single use.
Available Configurations
REF
Size
Length and Diameter, mm
Aspiration canulla
Syringe 5 ml
Film fixed
Surgical Drape
Gauze napkins
Sponges
Пuide needle
Plaster
Color code
Quincke spinal needle
1875Q
18G×3"
1,2×75
●
●
●
●
●
●
●
1890Q
18G×3½"
1,2×90
●
●
●
●
●
●
●
1990Q
19G×3½"
1,0×90
●
●
●
●
●
●
●
2075Q
20G×3"
0,87×75
●
●
●
●
●
●
●
2090Q
20G×3½"
0,87×90
●
●
●
●
●
●
●
2190Q
20G×3½"
0,82×90
●
●
●
●
●
●
●
2240Q
22G×1½"
0,7×40
●
●
●
●
●
●
●
2275Q
22G×3"
0,7×75
●
●
●
●
●
●
●
2290Q
22G×3½"
0,7×90
●
●
●
●
●
●
●
22120Q
22G×4¾"
0,7×120
●
●
●
●
●
●
●
2390Q
23G×3½"
0,63×90
●
●
●
●
●
●
●
2490Q
24G×3½"
0,57×90
●
●
●
●
●
●
●
2575Q
25G×3"
0,52×75
●
●
●
●
●
●
●
2590Q
25G×3½"
0,52×90
●
●
●
●
●
●
●
2590QG
25G×3½"
0,52×90
●
●
●
●
●
●
20G×1⅓"
●
25103QG
25G×4"
0,52×103
●
●
●
●
●
●
20G×1⅓"
●
25120QG
25G×4¾"
0,52×120
●
●
●
●
●
●
20G×1⅓"
●
2690Q
26G×3½"
0,45×120
●
●
●
●
●
●
●
2690QG
26G×3½"
0,45×90
●
●
●
●
●
●
21G×1⅓"
●
26103QG
26G×4"
0,45×103
●
●
●
●
●
●
21G×1⅓"
●
26120QG
26G×4¾"
0,45×120
●
●
●
●
●
●
21G×1⅓"
●
2790Q
27G×3½"
0,41×90
●
●
●
●
●
●
●
2790QG
27G×3½"
0,41×90
●
●
●
●
●
●
21G×1⅓"
●
27103QG
27G×4"
0,41×103
●
●
●
●
●
●
22G×1⅓"
●
27120QG
27G×4¾"
0,41×120
●
●
●
●
●
●
22G×1⅓"
●
2990Q
29G×3½"
0,33×90
●
●
●
●
●
●
●
2990QG
29G×3½"
0,33×90
●
●
●
●
●
●
22G×1⅓"
●
29120QG
29G×4¾"
0,33×90
●
●
●
●
●
●
22G×1⅓"
●
Игла Pencil Point
2290P
22G×3½"
0,7×90
●
●
●
●
●
●
●
2290PG
22G×3½"
0,7×90
●
●
●
●
●
●
18G×1⅓"
●
2390P
23G×3½"
0,63×90
●
●
●
●
●
●
●
2490P
24G×3½"
0,57×90
●
●
●
●
●
●
●
2590P
25G×3½"
0,52×90
●
●
●
●
●
●
●
2590PG
25G×3½"
0,52×90
●
●
●
●
●
●
20G×1⅓"
●
25103PG
25G×4"
0,52×103
●
●
●
●
●
●
20G×1⅓"
●
25120PG
25G×4¾"
0,52×120
●
●
●
●
●
●
20G×1⅓"
●
2690P
26G×3½"
0,45×90
●
●
●
●
●
●
●
2690PG
22G×3½"
0,45×90
●
●
●
●
●
●
21G×1⅓ "
●
26103PG
26G×4"
0,45×103
●
●
●
●
●
●
21G×1⅓"
●
2790P
27G×3½"
0,41×90
●
●
●
●
●
●
●
2790PG
27G×3½"
0,41×90
●
●
●
●
●
●
21G×1⅓"
●
27103PG
27G×4"
0,41×103
●
●
●
●
●
●
21G×1⅓"
●
27120PG
27G×4¾"
0,41×120
●
●
●
●
●
●
21G×1⅓"
●
2990P
29G×3½"
0,33×90
●
●
●
●
●
●
●
2990PG
29G×3½"
0,33×90
●
●
●
●
●
●
22G×1⅓"
●
Игла Atrau
2590ATG
25G×3½"
0,52×90
●
●
●
●
●
●
20G×1⅓"
●
25100ATG
25G×4"
0,52×100
●
●
●
●
●
●
20G×1⅓"
●
2650AT
26G×2"
0,45×50
●
●
●
●
●
●
●
2688ATG
26G×3½"
0,45×88
●
●
●
●
●
●
21G×1⅓"
●
26100ATG
26G×4"
0,45×100
●
●
●
●
●
●
21G×1⅓"
●