Medical Products and Supplies
Spinal Needles. Atrau type tip
• Sizes: 25,26 G
• Length: 50-100 mm
• Сolor coded hub
---
Needle with multi-angle grinded tip with special bending. Extra thin wall. Atraumatic. Provides minimum loss of CSF.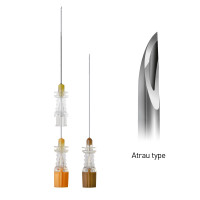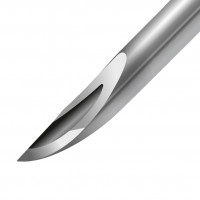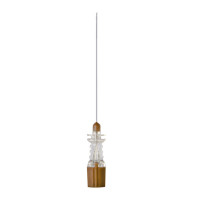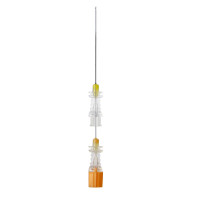 Product Features
Sizes: 25G, 26G. Length: 50, 90, 100 mm
Сolor coded hub by size for clear recognition.
Used in subarachnoid puncture for spinal anesthesia
Completely transparent needles stand provides convenience to observe the outflow of the cerebrospinal fluid.
The needle core with pin allows a good joint of needle edge.
Sterilized by EO gas, sterile, non-toxic, non-pyrogenic ,single use only.
High quality stainless steel.
larger inner diameter, high flow rate.
Needle bevel enables smooth, sharpness maximize, patient comfort.
Range includes spinal needles with short guide needle for puncturing dense tissue and for insertion of the spinal needle in the required direction.
Needle hub: made of medical grade transparent PP for clearness of flashback.
Available Configurations
| Ref. No.: | Size, G | Ø, mm | Length, mm | Length, inch | Color code | Guide size | Qty.Cs: |
| --- | --- | --- | --- | --- | --- | --- | --- |
| A2590G | 25G | 0.5 | 90 | 3½" | orange | 20G×1⅓" | 1/100/1000 |
| A25100G | 25G | 0.5 | 100 | 4" | orange | 20G×1⅓" | 1/100/1000 |
| A2688G | 26G | 0.45 | 88 | 3½" | brown | 21G×1⅓" | 1/100/1000 |
| A26100G | 26G | 0.5 | 100 | 4" | orange | 21G×1⅓" | 1/100/1000 |
| A2650 | 26G | 0.45 | 50 | 2" | brown | — | 1/100/1000 |