Medical Products and Supplies
Latex Foley Catheters with Hydrophilic coating
• 2-way or 3-way 6-30 Fr/Ch
• Standard 400 mm
• Female 230 mm
• Pediatric 270 mm
---
A hydrophilic catheter has a coating that, with the addition of water, allows for smooth insertion and removal of the catheter without the use of a lubricating gel.Foley balloon catheter is a urinary tract catheter used for short or long term urine drainage. Foley catheter are made from natural latex rubber.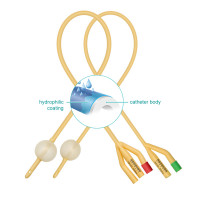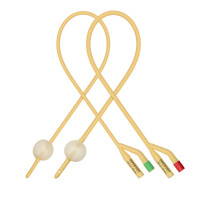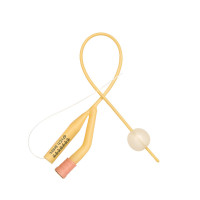 Product Features
Hydrophilic foley catheter wake the patients have no pain in urethral catheterization
The Hydrophilic coat keeps stable and is not easy to exfoliate for a long time.
Do not need paraffin oil lubricant, which can minimize irritation to urethra.
No urinary sediment: to avoid sediment of calcium phosphate caused by indwelling urethral catheterization.
Good biocompatibility: do not cause urethra infection.
Convenient operation: easy to pass through the urethral stricture or scar, and no need to dilate urethra.
High security: especially useful to patients sufferiong from prostate hyperplasia or urethral stricture.
Two way, three way, rubber and plastic valve.
Size: 6-30 Fr / Ch.
Balloon capacity: 3ml or 3-5ml or 5ml or 5-10ml or 5-15ml or 30ml or 30-50ml are available.
Available Configurations
2-way standart hydrophilic Foley catheter
| Ref. No.: | Balloon capacity: | Size: | Color: | Qty.Cs: |
| --- | --- | --- | --- | --- |
| 1604-M222-12 | 5-15ML | 12 Fr / Ch | White | 400 |
| 1604-M222-14 | 5-15ML | 14 Fr / Ch | Green | 400 |
| 1604-M222-16 | 30ML | 16 Fr / Ch | Orange | 400 |
| 1604-M222-18 | 30ML | 18 Fr / Ch | Red | 400 |
| 1604-M222-20 | 30ML | 20 Fr / Ch | Yellow | 400 |
| 1604-M222-22 | 30ML | 22 Fr / Ch | Violet | 400 |
| 1604-M222-24 | 30ML | 24 Fr / Ch | Blue | 400 |
| 1604-M222-26 | 30ML | 26 Fr / Ch | Pink | 400 |
| 1604-M222-28 | 30ML | 28 Fr / Ch | Brown | 400 |
| 1604-M222-30 | 30ML | 30 Fr / Ch | Grey | 400 |
2-way female hydrophilic Foley сatheter
| Ref. No.: | Balloon capacity: | Size: | Color: | Qty.Cs: |
| --- | --- | --- | --- | --- |
| 1604-M223-12 | 5-15ML | 12 Fr / Ch | White | 400 |
| 1604-M223-14 | 30ML | 14 Fr / Ch | Green | 400 |
| 1604-M223-16 | 30ML | 16 Fr / Ch | Orange | 400 |
| 1604-M223-18 | 30ML | 18 Fr / Ch | Red | 400 |
| 1604-M223-20 | 30ML | 20 Fr / Ch | Yellow | 400 |
| 1604-M223-22 | 30ML | 22 Fr / Ch | Violet | 400 |
| 1604-M223-24 | 30ML | 24 Fr / Ch | Blue | 400 |
2-way pediatric hydrophilic Foley catheter
| Ref. No.: | Balloon capacity: | Size: | Length: | Color: | Qty.Cs: |
| --- | --- | --- | --- | --- | --- |
| 1604-M221-06 | 3ML | 6 Fr | 270 MM | Red | 400 |
| 1604-M221-08 | 3-5ML | 8 Fr | 270 MM | Black | 400 |
| 1604-M221-10 | 3-5ML | 10 Fr | 270 MM | Grey | 400 |
3-way standart hydrophilic Foley Catheter
| Ref. No.: | Balloon capacity: | Size: | Color: | Qty.Cs: |
| --- | --- | --- | --- | --- |
| 1604-M208-16 | 30ML | 16 Fr / Ch | Orange | 400 |
| 1604-M208-18 | 30ML | 18 Fr / Ch | Red | 400 |
| 1604-M208-20 | 30ML | 20 Fr / Ch | Yellow | 400 |
| 1604-M208-22 | 30ML | 22 Fr / Ch | Violet | 400 |
| 1604-M208-24 | 30ML | 24 Fr / Ch | Blue | 400 |
| 1604-M208-26 | 30ML | 26 Fr / Ch | Pink | 400 |
| 1604-M208-28 | 30ML | 28 Fr / Ch | Brown | 400 |
| 1604-M208-30 | 30ML | 30 Fr / Ch | Grey | 400 |