Medical Products and Supplies
Silicone Foley Catheters
• 2-way or 3-way
• Sizes 6-30 Fr/Ch
• Standard, Female, Pediatric, Tiemann tip
---
Closed-end 100% silicone catheter with distal balloon cuff used for intermittent drainage of urine from the bladder or contrast studies of urogenital tract.The angular Tiemann tip (ball tip) provides a careful manner.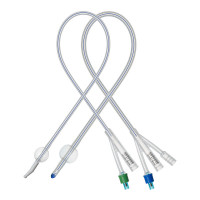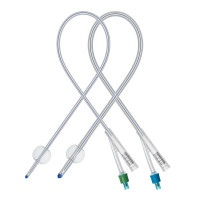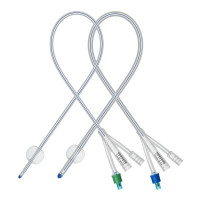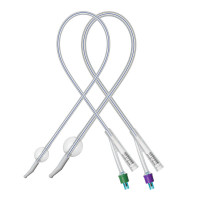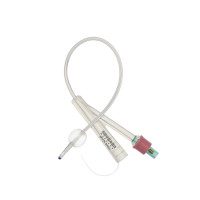 Product Features
Made of 100% medical grade silicone, suitable for long term placement.
X-ray detective line through the catheter.
Balloon capacity: 5ml or 10ml or 15ml or 30ml available.
Length: 300mm, 400mm.
Available Configurations
2-way standart silicone Foley catheter
| Ref. No.: | Balloon capacity: | Size: | Color: | Qty.Cs: |
| --- | --- | --- | --- | --- |
| 1604-M232-12 | 30ML | 12 Fr / Ch | White | 400 |
| 1604-M232-14 | 30ML | 14 Fr / Ch | Green | 400 |
| 1604-M232-16 | 30ML | 16 Fr / Ch | Orange | 400 |
| 1604-M232-18 | 30ML | 18 Fr / Ch | Red | 400 |
| 1604-M232-20 | 30ML | 20 Fr / Ch | Yellow | 400 |
| 1604-M232-22 | 30ML | 22 Fr / Ch | Violet | 400 |
| 1604-M232-24 | 30ML | 24 Fr / Ch | Blue | 400 |
| 1604-M232-26 | 30ML | 26 Fr / Ch | Pink | 400 |
2-way female silicone Foley catheter
| Ref. No.: | Balloon capacity: | Size: | Color: | Qty.Cs: |
| --- | --- | --- | --- | --- |
| 1604-M233-12 | 5-15ML | 12 Fr / Ch | White | 400 |
| 1604-M233-14 | 5-15ML | 14 Fr / Ch | Green | 400 |
| 1604-M233-16 | 30ML | 16 Fr / Ch | Orange | 400 |
| 1604-M233-18 | 30ML | 18 Fr / Ch | Red | 400 |
3-way standart silicone Foley catheter
| Ref. No.: | Balloon capacity: | Size: | Color: | Qty.Cs: |
| --- | --- | --- | --- | --- |
| 1604-M206-16 | 30ML | 16 Fr / Ch | Orange | 400 |
| 1604-M206-18 | 30ML | 18 Fr / Ch | Red | 400 |
| 1604-M206-20 | 30ML | 20 Fr / Ch | Yellow | 400 |
| 1604-M206-22 | 30ML | 22 Fr / Ch | Violet | 400 |
| 1604-M206-24 | 30ML | 24 Fr / Ch | Blue | 400 |
| 1604-M206-26 | 30ML | 26 Fr / Ch | Pink | 400 |
2-way silicone Foley catheter pediatric
| Ref. No.: | Balloon capacity: | Size: | Color: | Qty.Cs: |
| --- | --- | --- | --- | --- |
| 1604-M231-06 | 3ML | 6 Fr | Light red | 400 |
| 1604-M231-08 | 3-5ML | 8 Fr | Black | 400 |
| 1604-M231-10 | 3-5ML | 10 Fr | Grey | 400 |
2-way silicone Foley catheter Tiemann type
| Ref. No.: | Balloon capacity: | Size: | Color: | Qty.Cs: |
| --- | --- | --- | --- | --- |
| 1604-M234-12 | 5-15ML | 12 Fr / Ch | White | 400 |
| 1604-M234-14 | 5-15ML | 14 Fr / Ch | Green | 400 |
| 1604-M234-16 | 30ML | 16 Fr / Ch | Orange | 400 |
| 1604-M234-18 | 30ML | 18 Fr / Ch | Red | 400 |
| 1604-M234-20 | 30ML | 20 Fr / Ch | Yellow | 400 |
| 1604-M234-22 | 30ML | 22 Fr / Ch | Violet | 400 |
| 1604-M234-24 | 30ML | 24 Fr / Ch | Blue | 400 |