Medical Products and Supplies
Silicone Coated Latex Foley Catheters
• 2-way or 3-way 6-30 Fr/Ch
• Standard 400 mm
• Female 230 mm
• Pediatric 270 mm
---
Mederen Foley Catheter is designed with an ultra smooth silicone coating that increases patient comfort,making it ideal for both short and long term use. It has been shown in studies that MEDEREN reduces urethral irritation, and can resist bacterial colonisation and encrustation.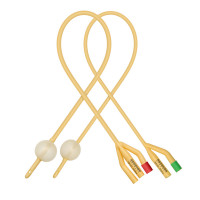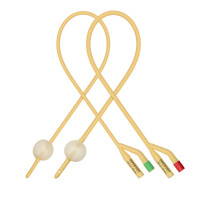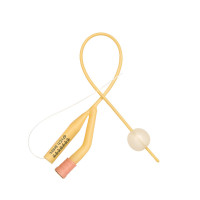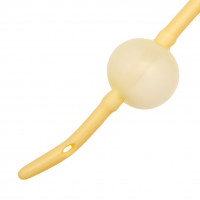 Product Features
Symmetrical large capacity balloon ensuring a straight tip for proper flow and good sphincter action thus preventing bladder leakage.
Manufactured from natural rubber coated with silicone to eliminate the risk of encrustation.
Coned distal end provided with burr free eyes for atraumatic intubation.
Hard valve ensures easy inflation and deflation of balloon.
Colour coded for instant size identification.
Sterile, individually packed in peelable pack.
Balloon capacity: 3-50ml.
Length: 230-400mm.
Available Configurations
2-way standart Foley сatheter
| Ref. No.: | Balloon capacity: | Size: | Color: | Qty.Cs: |
| --- | --- | --- | --- | --- |
| 1604-M212-12 | 5-15ML | 12 Fr / Ch | White | 400 |
| 1604-M212-14 | 5-15ML | 14 Fr / Ch | Green | 400 |
| 1604-M212-16 | 30ML | 16 Fr / Ch | Orange | 400 |
| 1604-M212-18 | 30ML | 18 Fr / Ch | Red | 400 |
| 1604-M212-20 | 30ML | 20 Fr / Ch | Yellow | 400 |
| 1604-M212-22 | 30ML | 22 Fr / Ch | Violet | 400 |
| 1604-M212-24 | 30ML | 24 Fr / Ch | Blue | 400 |
| 1604-M212-26 | 30ML | 26 Fr / Ch | Pink | 400 |
| 1604-M212-28 | 30ML | 28 Fr / Ch | Brown | 400 |
| 1604-M212-30 | 30ML | 30 Fr / Ch | Grey | 400 |
2-way female Foley сatheter
| Ref. No.: | Balloon capacity: | Size: | Color: | Qty.Cs: |
| --- | --- | --- | --- | --- |
| 1604-M213-12 | 5-15ML | 12 Fr / Ch | White | 400 |
| 1604-M213-14 | 30ML | 14 Fr / Ch | Green | 400 |
| 1604-M213-16 | 30ML | 16 Fr / Ch | Orange | 400 |
| 1604-M213-18 | 30ML | 18 Fr / Ch | Red | 400 |
| 1604-M213-20 | 30ML | 20 Fr / Ch | Yellow | 400 |
| 1604-M213-22 | 30ML | 22 Fr / Ch | Violet | 400 |
| 1604-M213-24 | 30ML | 24 Fr / Ch | Blue | 400 |
2-way pediatric Foley catheter
| Ref. No.: | Balloon capacity: | Size: | Length: | Color: | Qty.Cs: |
| --- | --- | --- | --- | --- | --- |
| 1604-M211-06 | 3ML | 6 Fr | 270 MM | Red | 400 |
| 1604-M211-08 | 3-5ML | 8 Fr | 270 MM | Black | 400 |
| 1604-M211-10 | 3-5ML | 10 Fr | 270 MM | Grey | 400 |
2-way Foley Catheter Tiemann type
| Ref. No.: | Balloon capacity: | Size: | Color: | Qty.Cs: |
| --- | --- | --- | --- | --- |
| 1604-M214-14 | 30ML | 14 Fr / Ch | Green | 400 |
| 1604-M214-16 | 30ML | 16 Fr / Ch | Orange | 400 |
| 1604-M214-18 | 30ML | 18 Fr / Ch | Red | 400 |
| 1604-M214-20 | 30ML | 20 Fr / Ch | Yellow | 400 |
| 1604-M214-22 | 30ML | 22 Fr / Ch | Violet | 400 |
| 1604-M214-24 | 30ML | 24 Fr / Ch | Blue | 400 |
3-way standart Foley Catheter
| Ref. No.: | Balloon capacity: | Size: | Color: | Qty.Cs: |
| --- | --- | --- | --- | --- |
| 1604-M205-16 | 30ML | 16 Fr / Ch | Orange | 400 |
| 1604-M205-18 | 30ML | 18 Fr / Ch | Red | 400 |
| 1604-M205-20 | 30ML | 20 Fr / Ch | Yellow | 400 |
| 1604-M205-22 | 30ML | 22 Fr / Ch | Violet | 400 |
| 1604-M205-24 | 30ML | 24 Fr / Ch | Blue | 400 |
| 1604-M205-26 | 30ML | 26 Fr / Ch | Pink | 400 |
| 1604-M205-28 | 30ML | 28 Fr / Ch | Brown | 400 |
| 1604-M205-30 | 30ML | 30 Fr / Ch | Grey | 400 |