First-Ever Implant Treats Heart Failure at Rambam
Millions of people suffer from diastolic heart failure, for which there is no effective long-term treatment. Rambam HCC is the first hospital in the world to treat a patient with a new Israeli-developed device for this condition.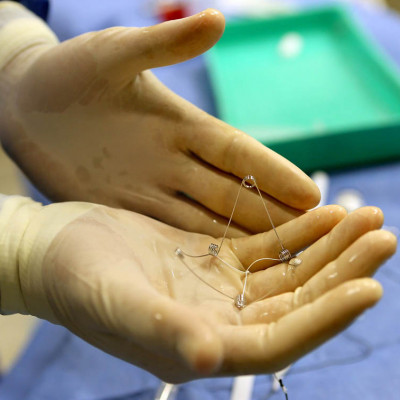 Over 23 million people worldwide suffer from heart failure, a condition in which the heart fails to pump sufficient oxygenated blood to meet the body's needs. Heart failure symptoms include shortness of breath, tiredness, swollen legs and limited ability to exercise or perform simple physical tasks. The prognosis of heart failure is poor; more than 40% of heart failure patients die within 5 years of diagnosis. There are several types of heart failure based on the mode of heart dysfunction. Diastolic heart failure occurs when the left ventricle fails to relax and adequately refill with blood (diastolic phase of the heart cycle) resulting in a high filling pressure, congestion and shortness of breath. Approximately half of heart failure patients suffer from diastolic heart failure. The incidence of diastolic heart failure increases with age and is common among women with hypertension, obesity and diabetes. There is currently no effective proven treatment for this condition.
CorAssist, an Israeli start-up company, developed the CORolla®, an elastic device that is implanted inside the left ventricle of the heart by a minimally invasive procedure on a beating heart. The device can improve cardiac diastolic function by applying direct expansion force on the ventricle wall to help the heart fill with blood. The CorAssist technology was invented by Dr. Yair Feld, a cardiologist at Rambam Health Care Campus (Rambam), together with partners Dr. Yotam Reisner and Dr. Shay Dubi.
Professor Gil Bolotin, Director of the Department of Cardiac Surgery, and Dr. Arthur Kerner, senior physician in the Interventional Cardiology Unit, recently led a multi-disciplinary team of cardiologists, heart surgeons, and other Rambam medical professionals in the first clinical implantation surgery on a 72-year old Canadian man admitted specifically for this procedure.
When asked how and why he came to Rambam for the procedure, Robert MacLachlan explained that he had run out of treatment options in Canada for his diastolic heart failure. His wife had read about the CORolla implant on the Internet and contacted Dr. Karen Bitton Worms, Head of Research – Department of Cardiac Surgery at Rambam. MacLachlan's cardiologist encouraged him to apply saying he would be going to a great facility, a university hospital with good people. Professor Gil Bolotin explained that while many potential applicants were interested in the procedure, no one wanted to be first. Bright-eyed MacLachlan spoke of his experience with Rambam's culturally diverse staff all sharing one special characteristic—Heart!
Professor Rafi Beyer, Director and CEO of Rambam, stated that "Patients turn to us for the "Rambam Advantage." They know that Rambam's physician researchers have access to some of the most innovative technologies and treatments. I am proud that Rambam offers treatments to patients not available anywhere else in the world." The Israel Ministry of Health has authorized up to 10 clinical trials at Rambam in Israel to test the efficacy of cardiac catheterization for placement of the CORolla® implant.