Giving Older Patients a Second Chance – 75 Percent More Return Home
Rambam is the leading medical center of reference for an empathetic geriatric program that has reduced both mortality and delirium by 75 percent in the hospitalized older population.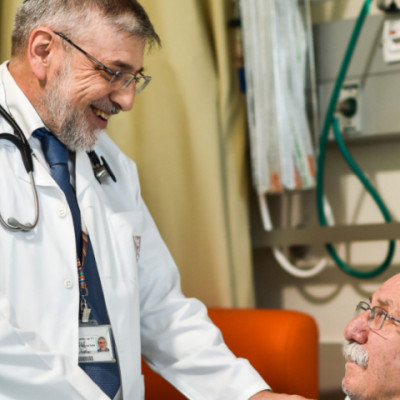 Professor Tzvi Dwolatzky with a patient.
With the aging of the population worldwide, failing cognition and dementia have become major public health issues. Paradoxically, hospitalization may often serve as a catalyst in the downward spiral of cognition and function. Some of the familiar stressors, besides worrying over medical reasons for hospitalization, include interrupted sleep for monitoring and tests, physical and mental deterioration following days of bedrest, and a dramatic change in daily life patterns. The result is a marked decline in functional abilities, often termed "post-hospital syndrome."
Vulnerable frail older patients frequently experience mental and physical impairment, and may develop delirium—an acutely disturbed state of mind characterized by restlessness, illusions, and incoherent thought and speech. While these symptoms can often be resolved with proper in-hospital care, too often patients grow weaker or are diagnosed with dementia and shunted off to institutions where their condition further deteriorates; with increased costs for extended hospitalization, institutional care, and frequent hospital readmissions. It doesn't have to be this way!
Professor Tzvi Dwolatzky, Director of Geriatric Services at Rambam Healthcare Campus, Associate Professor of Geriatrics at the Technion's Ruth and Bruce Rapaport Faculty of Medicine, President of the Israel Geriatric Society, and Specialty Chief Editor of the Geriatric Medicine section of Frontiers in Medicine, has been fascinated by the effects of aging on memory and cognition since early in his career. He noted that while 20 to 50 percent of geriatric patients develop delirium in the hospital, the diagnosis is rarely recorded on their hospital charts. In addition, older patients are often kept in bed with limited mobility, leading to rapid loss of muscle mass and functional ability. Poor appetite and decreased food and fluids consumption by these older patients result in dehydration and poor nutrition. While the devoted geriatric staff of Rambam provide consultation services to the surgeons and physicians of the various units regarding specific medical issues, the need for a comprehensive personalized approach in caring for older patients throughout the hospital was clear. Distressed, Professor Dwolatzky turned to Professor Rafi Beyar, Director of Rambam, who responded with, "Bring me an idea on how to solve this problem and we'll take it from there!"
The answer sounded simple – HELP, the Hospital Elder Life Program – a program developed in 1999 by Professor Sharon Inouye at Yale University to prevent delirium in hospital. With Professor Beyar's blessing, Professor Dwolatzky established Israel's first HELP Center, with the support of the Israel National Dementia Program and JDC-ESHEL (a non-profit organization founded and supported by the Israeli government and American Jewish Joint Distribution Committee). The success of this program at Rambam inspired four other Israeli hospitals to establish their own HELP programs, with Rambam's guidance.
The HELP Model consists of a professional geriatric team working with trained volunteers, who focus on three main areas: (1) providing the older patient with orientation exercises and cognitive stimuli, emotional support, and encouragement; (2) ensuring patients eat and drink sufficiently; and (3) encouraging patient mobility. Professor Dwolatzky elaborates, "We set up partnerships with Haifa University and other academic institutions; training students studying nursing, physiotherapy, occupational therapy, and gerontology, to work with the older patients in many of Rambam's acute care units. We were also very pleased that premed students from a high school in the Arab city of Shfaram volunteer in our HELP program. One day, a student offered a patient powdered coffee from the ward. The patient, who was paralyzed following a stroke, said that she would love a cup of "good coffee." The student asked for permission to wheel the patient to the Aroma cafe on the hospital campus, where they sat and enjoyed coffee, cake, and a stimulating conversation. Better than any medical treatment!"
Rambam subsequently added an additional program for the wellbeing of older trauma patients. Rambam is Northern Israel's only Level 1 Trauma Center, and receives many patients more than 65 years of age. The program has a diagnostic and intervention component. In addition to a physical assessment, newly arrived older patients in the Trauma Unit are assessed to determine if they are suffering cognitive decline. Patients at risk for cognitive decline and delirium are assigned a personal case manager, who then coordinates a personalized structured rehabilitation program with the support of a multidisciplinary team.
The results of these programs speak for themselves— a 75 percent decline in patient mortality, and a 75 percent reduction in older patients developing delirium at Rambam. Patients get to go home, or to rehabilitation and then home – a second chance at life!