Israeli companies chosen for MedTech Innovator Showcase
16.08.2019
echo ["World news","Company news","Articles"][0]; ?>
Article source: echo rootUrl('');?>
Image:
Medasense for pain management and Vectorious for heart-failure monitoring were among 50 companies selected from a field of 800 applicants.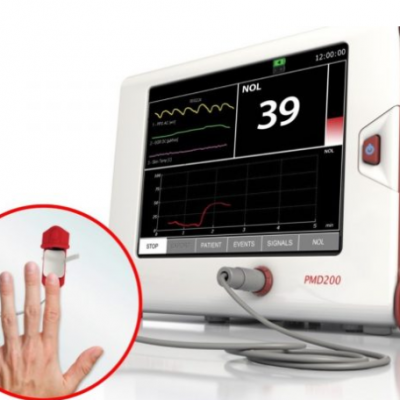 Israeli biomed companies Medasense and Vectorious were among 50 best-in-class device, diagnostics, and digital health technologies chosen for MedTech Innovator's 2019 Showcase program, presented at the Wilson Sonsini Goodrich & Rosati's 27th Annual Medical Device Conference in San Francisco last June, and at the coming MedTech Conference in Boston, September 23-25.
The 50 finalists were selected out of 800 applicants during a six-month diligence process by Los Angeles-based MedTech Innovator and its 19 corporate partners.
After reviewing all applicants, the 200 judges traveled around the world to meet 150 shortlisted candidate startups in person and choose those that will participate in the showcase, an on-stage interactive program.
Medasense of Ramat Gan was selected for its award-winning AI-driven pain-management technology that is playing a significant role in improving patient care. Its PMD-200 monitor, which quantifies the patient's level of response to pain stimuli, is currently in use in Europe, Latin America, Canada and Israel.
Vectorious Medical Technologies of Tel Aviv was chosen for its V-LAP product, the first miniature wireless microcomputer implant for left-atrial monitoring of heart failure. The first in-human trials began in January at six sites in Europe and Israel.
Also presented at the San Francisco conference was Israeli company ApiFix of Misgav and Boston, which pioneered an internal brace to correct adolescent scoliosis (curvature of the spine) with a minimally invasive procedure
ApiFix won a $50,000 grant from the National Capital Consortium for Pediatric Device Innovation's "Make Your Medical Device Pitch for Kids!" competition and access to the consortium's first-of-its-kind Pediatric Device Innovator Accelerator Program led by MedTech Innovator. It was the only non-American company of five chosen as contest winners.