Rambam Strengthens Its Connection with Stanford University
Professor Lloyd B. Minor M.D., dean of Stanford University School of Medicine, one of the best medical schools in the world, recently visited Rambam HCC to learn more about what goes on in the largest hospital in Northern Israel.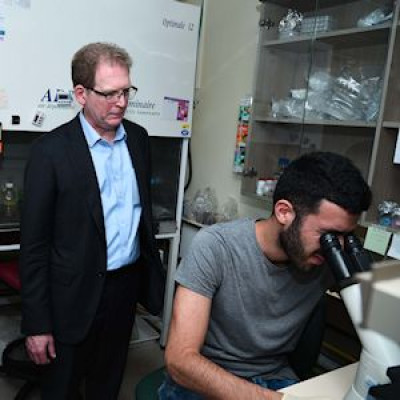 During his visit, Professor Minor met with representatives of Rambam's administration who shared with him about the hospital's achievements and what makes it unique, including the hospital's vision and development plans. He also learned about Rambam's extensive work as a trauma center and leader in Israeli medical care. On the innovation side, he was introduced to the new Center for Medical Innovation—the only one of its kind in Israel, and Rambam MedTech—the technology transfer company of Rambam that helps clinicians turn their clinical ideas into a reality.

Professor Minor then was taken on a tour of the hospital's campus. He visited the Sammy Ofer Fortified Underground Emergency Hospital, unique and impressive facility that converts from a 1,500-car parking lot to a fully equipped hospital within just 72 hours. From there he saw the Ruth Rappaport Children's Hospital with its child-friendly healing environment and broad range of pediatric care. From there he visited the laboratories of two of Rambam's renown clinician researchers: Professor Gil Ziv, the director of the Department of Otolaryngology-Head & Neck Surgery and Professor Lior Gepstein, the director of the Division of Cardiology.

"We discovered that we have a lot in common," remarked Professor Rafi Beyar, Rambam's director who accompanied Professor Minor throughout his visit. "We talked about creating collaborative opportunities for our staff and outlined plans for the future. We look forward to joining forces with one of the best universities and medical schools in the world."