Samsung LABGEO IB10 – Lab in the pocket
17.05.2019
echo ["World news","Company news","Articles"][0]; ?>
Article source: echo rootUrl('');?>
Image: https://www.avant-medical.com/samsung-labgeo/
A product review It's a long way and even bored to think about diagnostics. Standing in queues, providing blood samples, waiting for hours outside the laboratory and finally identifying the exact cause of illness, is an annoying task. This can be put up with for common health problems. But for emergencies, such as sudden heart stroke where time and accuracy of diagnostics plays a key role, this process will no more sustain. So, Samsung in association with its global collaboration partner, Thermo Fisher Scientific, introduced a digital health diagnostics tool known as Samsung LABGEO IB 10. It has many unique features which made it be named as the portable diagnostics. What do you think about?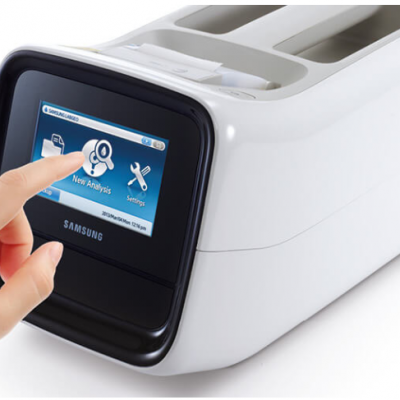 What is it?
Samsung LABGEO IB10 is a smart immunoassay analyzer which takes the blood samples through the disc, performs centrifugation inside the analyzer and provides the in-vitro determinations for the medical professionals. Also, the test results are fast and accurate in emergency care settings where near patient testing is critical. All the test results can be obtained in 20 minutes. But the cardiac marker tests may take 30 minutes. Rapid isn't it..!
Applications of this digital health diagnostics tool
Unlike the conventional laboratory techniques, no sample pre-treatment is required for plasma separation. So, the system can support various tests.
Troponin I: These tests are primarily ordered to help diagnose a heart attack and rule out other conditions with similar signs and symptoms. Our Samsung LABGEO IB Troponin I Test is for the quantitative measurement of Troponin I in lithium heparin human whole blood and plasma. These determinations aid in the diagnosis of myocardial infarction (MI) and patients with non-ST-segment elevation (NSTEMI) acute coronary syndromes (ACS).
CHF Test: To diagnose Congestive Heart Failure, your doctor will take a careful medical history, review your symptoms and perform a physical examination. The Samsung LABGEO, IB CHF Test, is the quantitative measurement of the N-terminal pro-brain natriuretic peptide in EDTA including lithium heparin human whole blood & plasma. NT-proBNP determinations aid in the diagnosis and management of Congestive Heart Failure (CHF). Interesting!
CHF plus Test: A blood test to check for a chemical called N-terminal pro-B-type Natriuretic peptide (NT-proBNP) may help in diagnosing heart failure. Our Samsung LABGEO IB CHF plus Test is for the quantitative measurement of Troponin I (cTnI) and N-terminal pro-brain natriuretic peptide in lithium heparin human whole blood and plasma.
Cardiac 3-in-1 Panel Test: The 3-panel rapid tests are immune chromatography assays for the qualitative and quantitative determination of 3 biochemical markers (Troponin I, CK-MB, and Myoglobin) simultaneously in human serum or whole blood. The Samsung LABGEO IB Cardiac 3-in-1 Panel Test is for the quantitative measurement of Troponin I (cTnI), Myoglobin, Creatine Kinase Isoform MB (CK-MB) in lithium heparin human whole blood and plasma.
SOB Cardiac 3 Panel Test: The Samsung LABGEO IB SOB Cardiac 3 Panel Test is for the quantitative measurement of Troponin I (cTnI), NT-proBNP and D-Dimer in lithium heparin human whole blood plus plasma. The Shortness of Breath (SOB) test panel is designed as an aid in the differential diagnosis and prognostic evaluation of patients with symptoms of chest pain, typically accompanied by respiratory distress.
D-Dimer Test: D-dimer tests are used to help rule out the presence of an inappropriate blood clot (thrombus). This Samsung LABGEO IB D-Dimer Test is for the quantitative measurement of D-Dimer in lithium heparin and citrated human whole blood plus plasma. Assessing D-Dimer decisions aid in the quantitative assessment of patients presenting with clinical symptoms of Venous Thromboembolism including severely evolving disseminated pulmonary embolism (PE), intravascular coagulation (DIC), and deep vein thrombosis (DVT). Great!
Beta-hCG Test: It measures the amount of hCG present in the blood. It may be used to confirm a pregnancy. Our Samsung LABGEO IB beta-hCG Test is for the quantitative measurement of human chorionic gonadotropin in lithium heparin human blood and plasma and proves the women in pregnancy. That's good news..!
B.R.A.H.M.S PCT Test: It is an automated test for the determination of procalcitonin in human serum or plasma. The Samsung LABGEO IB B·R·A·H·M·S PCT is for the quantitative measurement of Procalcitonin in EDTA whole blood rather plasma to assist in the early detection and differential diagnosis of clinically related bacterial infections to evaluate the degree of severity and to prognosticate the outcome of systemic bacterial infection, septic shock, sepsis, severe sepsis. Also, this test aids in the monitoring of antibiotic treatment within the measuring range and the assessment of successful antibiotic treatment within the measuring range. It helps in early diagnosis of sepsis. Sounds great..!
TSH Test: This test estimates the amount of thyroid-stimulating hormone (TSH) in your blood. TSH is generated by the pituitary gland. It shows the thyroid gland to make and release thyroid hormones into the blood. The Samsung LABGEO IB TSH Test is for the quantitative determination of Thyroid-stimulating hormone in lithium heparin human whole blood and plasma. Incredible..!
This digital health diagnostics tool is also able to perform tests on infectious diseases.
Technical Specifications
Size
Width: 177mm
Depth: 330mm
Height: 177mm
Weight
2.4 Kg
Display
4.3 inches LCD Touch Screen
Intuitive GUI
Sample Volume
500µl whole blood (or) plasma
Power
8 hours of full operation
Optional rechargeable battery is available
Operation
Automatic
Memory
5000 reports for regular tests
IT Solution
Samsung LABGEO data manager
Samsung IVD Mobile app
Connectivity
Wi-Fi USB Dongle, Barcode Scanner, USB, LAN Connectivity
Proactive service
RMS (Remote Management System)
Miscellaneous
Built-in Thermal Printer
Multi Language Support
Target user groups
By using Samsung LABGEO IB10, we can perform quantitative tests and semi-quantitative tests. Quantitative means cardiac markers and Semi-quantitative means infectious diseases. The major advantage of this system is to adapt centrifugal microfluidic systems, which are now using in both clinical including point of care settings. Modern studies have shown that this new diagnostic platform could be probably used in extreme point-of-care settings like distant villages in the Indian subcontinent and Africa. Several technological inventions have decentralized diagnostics in developing countries; however, very few microfluidic technologies have managed to meet the demand. By identifying the definite difference between the point-of-care testing and extreme point-of-care support, this review captures the evolving diagnostic requirements of developing countries paired with infrastructural challenges with technological hurdles to health care delivery in acute point-of-care settings.
Markets and future
Samsung electronics is one of the leading companies in shaping the future with transforming ideas and technologies. According to Fitch Ratings, margins of Asian smartphone makers are likely to contract even more as competition continues to intensify. So, Samsung has joined hands with the US medical equipment company Thermo Fisher Scientific to cooperate on the digital health diagnostics business and target the global medical equipment market. Thermo Fisher Scientific has 50 years of experience selling diagnostic instruments and laboratory equipment in 100 countries. In the Samsung-Thermo Fisher Scientific partnership, the Korean company will be supplying devices that diagnose acute heart disease, metabolism and inflammatory diseases to the Massachusetts-based Thermo Fisher Scientific, which has the world's biggest sales network in the medical equipment sector. As there is a need for quick diagnostics in particular areas of medicine, both developed and developing countries are ready to adopt this Samsung LABGEO IB10.
"Through this cooperation, Samsung can strengthen its diagnostic business as it establishes a base for future market expansion," said Cho Soo-in, head of the medical equipment business division at Samsung Electronics.
The medical equipment business is one of five key future growth engines Samsung has targeted amid shrinking profits from smartphones. Many ICT companies are also targeting medical materials and instruments as they become increasingly robotized. LABGEO IB10 has the bright future in the digital health market due to its unique features.
Competitors
Any product or service which is going to be released into the market must face a major problem called as competition. LABGEO IB10 also faces much of it from the leading companies.
Its principal and former competitor are Abbott Diagnostics. Their ARCHITECT Immunoassay analyzer can be capable of providing the test results for more number of checkups like cancer, protein, and transplant. But it costs around $5000. This makes IB10 somewhat better in the developing countries.
Second is the Radiometer's AQT90 Flex. It is used for testing of cardiac markers and supports fast clinical decision making. But this cannot be used to perform the tests in 20 seconds. Other than that, it may also help to measure D-dimer, CRP, NT-proBNP, and BhCG.
Next one is the Randox's Evidence Evolution. This had made very better performance in testing the samples. But its drawback is its massive size. IB10 can overcome it as it is very compact and light in weight.
Maccura's IS 1200 is automated magnetic microparticle-based immunoassay with advanced precision analytic instrumentation. It is also very huge in size and cannot be portable.
The last one is Carolina's AIA 360 which is small, automated and random access with the touch screen. It gives much competition to the IB10. But our IB10 is much compact and faster than this one.
Still, there are much more competitors in the market. But due to the unique feature of taking three samples on a single run and that too providing the test results in 20 minutes, Samsung LABGEO IB10 stands in the market in an elevated position.
Samsung LABGEO IB10 provides fast, accurate and precise test results for the given blood sample. In the case of emergencies, it can be easily carried in an ambulance or shifted from one ambulance to another. Moreover, Samsung LABGEO IB10 received an IF award for outstanding portability and ergonomic, easy-to-use design. I think this product will revolutionize the future of point-of-care testing and In-vitro diagnostics. Exciting right?