Sheba Medical Center, Tel HaShomer & Telesofia Medical Announce Cutting-Edge Telemedicine Software - A Game-Changer in Treating Cancer Patients in Their Own Homes
Sheba Medical Center, Tel HaShomer, in collaboration with Telesofia Medical, has announced the launch of a new, personalized telemedicine program that will enable cancer patients to quickly reach their doctors and get personalized feedback via video within the comfort of their own homes.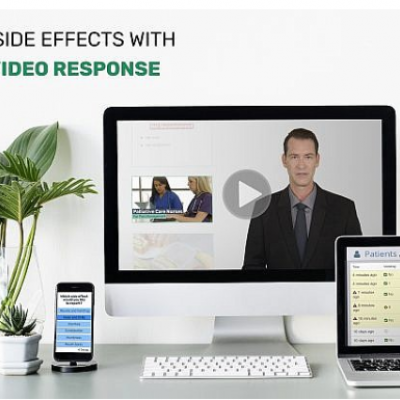 It will also allow oncologists to more closely monitor and treat their patients between doctor office visits.
The innovative program will begin as a pilot within the Oncology Department at Israel's Sheba Medical Center the largest hospital in the Middle East and one of the top ten hospitals in the world according to Newsweek. It will be offered to several hundred patients within the gastrointestinal oncology unit during the next few months.
The app allows patients to report side effects and other issues in real time to their doctors. Tailor-made videos based on the oncologist's instructions then pop up on the patient's phone. The technology has the potential to increase patient empowerment, reduce unnecessary medical complications and increase treatment efficiency.
"One of the biggest challenges for doctors is the absence of interaction with their patients in between visits. A lot of critical information about the patients' welfare, especially if they are taking medications, can fall through the cracks until their next visit. This personalized program, which is part of the digital/telemedicine revolution at Sheba, will provide us with vital information, as well as create a new bridge between doctors and their patients," said Dr. Benjamin Boursi, a cancer specialist in Sheba's Clinical Oncology and Radiotherapy Department, who created the program with Telesofia Medical.
"When a person who is sitting at home can actually see their doctor pop up on their cellphone screen, addressing them by their name, it creates a special relationship. To my knowledge, this is the first-of-its-kind program in the world," added Boursi.
Rami Cohen, CEO of Telesofia Medical, added, "We are proud to be working with Sheba, as we share similar values. We both believe in a holistic view of patient needs, patient centricity and patient empowerment, both while in the hospital and between visits. We look forward to measuring the impact the new system has on the patient's quality of life and clinical outcomes. The dedication and efforts of Dr. Boursi and Dr. Einat Shacham-Shmueli, as well as the entire GI oncology unit at Sheba Medical Center has been paramount in the development of this platform."
Telesofia Medical is the leading provider of personalized videos designed to enhance patient education and engagement.
About Sheba Medical Center, Tel HaShomer
Born together with Israel in 1948, Sheba Medical Center, Tel HaShomer is the largest and most comprehensive medical center in the Middle East. Sheba is the only medical center in Israel that combines an acute care hospital and a rehabilitation hospital on one campus, and it is at the forefront of medical treatments, patient care, research and education. As a university teaching hospital affiliated with the Sackler School of Medicine at Tel-Aviv University, it welcomes people from all over the world indiscriminately. In 2019, Newsweek magazine named Sheba one of the top ten hospitals in the world. To learn more, visit: shebaonline.org.