Siemens' newly acquired Corindus unit performs its first robotic brain aneurysm surgery
Corindus Vascular Robotics reported that it has completed its first machine-assisted brain surgery procedure in humans.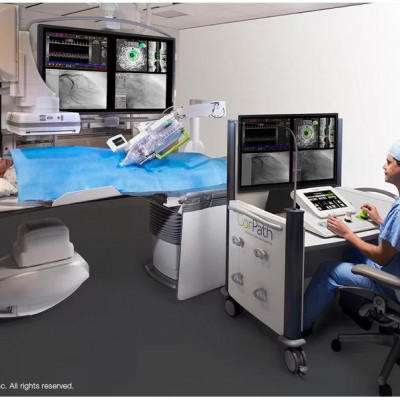 Using the company's CorPath GRX robotic system—which helps control and navigate catheters, guidewires, balloons and stents for minimally invasive procedures—neuroradiologists and surgeons in Toronto performed an aneurysm coiling maneuver to help seal off a weakening blood vessel.
The procedure was performed just days after Siemens Healthineers closed its $1.1 billion acquisition of the company, a deal first announced this past August. The Waltham, Massachusetts-based Corindus previously received FDA clearances and CE marks for its robotics system in coronary and peripheral vascular interventions.
The decades-old endovascular coiling procedure plugs brain aneurysms by steering a catheter to the weakened and ballooning artery and then filling it with thin strands of a soft metal such as platinum. The coils cause blood clots to form within the aneurysm, effectively sealing it off and preventing blood from rupturing the wall.
"Precision is a key element of neurovascular interventions, and it is evident to me that augmenting these delicate procedures with robotic assistance can positively impact how we treat patients," said Vitor Mendes Pereira, the neurosurgeon who performed the procedure at the Toronto Western Hospital and Krembil Brain Institute in Canada.
Corindus—and now, through it, Siemens—has also been working on preparing its system for remote-controlled procedures via telerobotics, potentially using the high data transfer speeds and bandwidths promised by 5G communications.
"The field of neurovascular intervention is changing rapidly, but there remains a significant need to expand access to care and reduce treatment times," Corindus CEO Mark Toland said in a statement. "Implementing robotic capability for neurovascular intervention is the first step toward our vision of providing patients' access to the world's best specialists regardless of their geographic location."
"Building a body of clinical research on neurovascular robotics while training physicians to be robotics experts today will allow us to maximize physician impact and reach with remote telerobotics tomorrow," Toland added.
In addition, Siemens also said it plans to develop Corindus' technology for more emergent procedures such as the treatment of heart attacks and strokes.