Ultrasound breakthrough allows doctors to examine patients remotely
Israeli startup iNNOGING enables physicians to manipulate captured ultrasound video and perform a dynamic exam virtually without the patient present.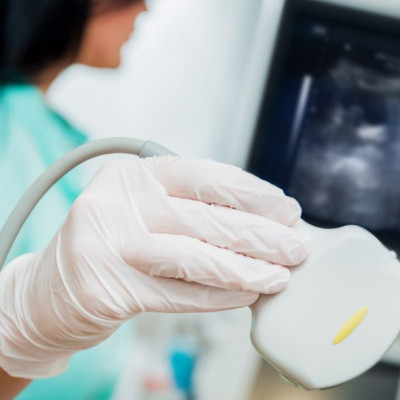 The idea of ultrasound technology is to give radiologists a dynamic look at moving parts inside the body. However, most ultrasound scans today are done by technicians – so the radiologist is reviewing recorded images or video clips instead of seeing the full real-time picture.
As a result, the doctor may miss something important or send the patient for a repeat ultrasound or a more costly and invasive diagnostic imaging.
A new invention from Israel will enable physicians to manipulate captured ultrasound video and perform a virtual dynamic exam without the patient present.
"Ultrasound is a volume created by many frames, so all the data exist but cannot be seen. By taking apart the video and building it again we can navigate inside and see everything that's going on," explains Adi Baruch, cofounder and CEO of iNNOGING Medical.
"Our technology quite simply converts the video clip into a 3D model."
The doctor maneuvers through this 3D model with iNNOGING's Probe & Pad hardware attached to any computer. The probe is identical to the transducer used in a live ultrasound exam, while the pad simulates the patient's body. There's no special training needed for any doctor who already knows how to perform an ultrasound.
"It's like the patient is sitting right there getting a real-time exam," says Baruch.
Breakthrough in sonography
The iNNOGING software and hardware were invented in the Kinematics and Computational Geometry Lab at Israel's Ariel University, co-directed by Dr. Nir Shvalb, and licensed through the Ariel Scientific Innovations tech-transfer company.
Shvalb previously helped invent the ViRob micro-robot platform commercialized by Microbot Medical and founded Memic Innovative Surgery based on his uniquely small, flexible robotic surgical system called Hominis.
Shvalb envisioned the remote ultrasound viewing and analyzing tool as a training simulator that student doctors and technicians could use at home. Existing simulators are expensive and bulky.
"By taking apart the video and building it again we can navigate inside and see everything that's going on."
Brought into the project for his international expertise in medical devices, Baruch immediately recognized that Shvalb's invention had much broader implications: it could bring an entirely new capability to doctors in order to increase diagnostic accuracy and reduce medical costs.
He believes this is nothing less than a breakthrough.
"No other ultrasound technology advancements at the moment are focused on the doctor," Baruch tells ISRAEL21c. "Most of the developments are about helping technicians capture better video images. Our technology is focused on the doctor doing the diagnosis without seeing the patient."
He explains that due to the sheer volume of ultrasound exams, at least 85 percent are performed by highly trained technicians. But even for the 15% performed by the diagnosing physician, iNNOGING presents a new opportunity for that doctor or a consulting physician to analyze and manipulate the recorded images after the patient has gone home.
"For example, checking a baby in utero can take a long time and if the doctor doesn't have adequate time during the appointment, or failed to capture certain angles, it can be done later with our technology," says Baruch.
The startup is in talks with several Chinese entities, he reveals. "In China there are large geographic distances between doctors. Using our system, a technician can do the ultrasound scan and a radiologist far away can analyze it dynamically."
Path to market
The startup completed its first investment round within 100 days. "We got investments from angels and doctors. We didn't go to VCs as most startups do," says Baruch.
He expects the iNNOGING (which stands for "innovative imaging") ultrasound simulator product to be ready for commercialization in one year. It will not need regulatory approvals and would be sold like a textbook for students.
"Our plan is to do a licensed spinoff with the simulator and put all our focus on the medical ultrasound analyzer," says Baruch.
The medical analyzer could launch in the US market within three years, pending FDA approval. "The process is not complicated. We just need to show that the data we provide is identical to the data we get from the any ultrasound machine," says Baruch.
"We are now looking for doctors and radiologists to join our advisory board, and we are looking to hire more software developers to help us expand. There are interesting joint ventures we can discuss for the simulator."
Larry Loev, CEO of Ariel Scientific Innovations, says the iNNOGING system "is the obvious next step in the procurement of digitized healthcare because it facilitates telemedicine. Ultrasound is becoming a more ubiquitous type of diagnostic device worldwide."
Loev notes that the technology is patented in United States and European Union.
Aside from filling an immediate unmet medical need in developed and developing countries, "our long-term vision is to use all the data we are collecting to enter into the AI (artificial intelligence) business with ultrasound, which is difficult at the moment and no company is doing it,"